We Are Omada: Jene Morris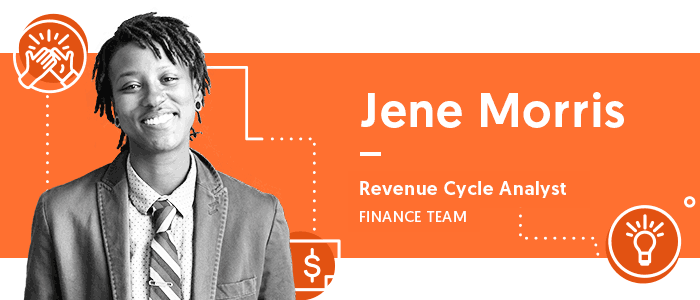 Omada's impact is only made possible because of the talented, dedicated individuals who come to work here every day. As of today, we're launching our "We are Omada" series to highlight some of the extraordinary (and extraordinarily) interesting people who make Omada a special place to work.

First up is Jene Morris. Jene began her journey at Omada on our Support team in 2015 and now works as a Revenue Cycle Analyst on our Finance Team. Check out our interview with her below!
What made you decide to join Omada?
I was referred to Omada by an employee on the engineering team. I worked with his sister as a Reimbursement Case Manager for Genentech. When my contract ended, I really wanted to stay in the Diabetes space. I previously worked with the American Diabetes Association and was a personal trainer for people who had chronic disease associated with abnormal weight gain. I had heard a lot about Omada and after fighting for the cause in wellness, non-profit, and pharma, I wanted to give the digital healthcare space a try.
After my first visit to Omada, I knew this was the place for me. The mission was in line with my personal passion, there were sofas and casual work spaces throughout the entire office, and there wasn't a dress code. Anyone who knows me knows that I'm a free spirit. I don't like to be confined to a desk, I love to dress according to my mood of the day, and I thrive when I am given the space. Omada was a perfect fit.
What Omada outcome are you proud to be working on?
I've spent most of my Omada career directly working with participants, however, I am proud to be on the other side of making sure we can successfully offer our services to even more participants through claims billing.
You started off at Omada on our Support team. Now you're on the Finance team. Can you tell us a little more about that transition?
Although my role and teams have switched,I've found that I carry my passion for the participant experience with me. Instead of helping the participant troubleshoot their way through the program, I now fight to make our program as seamless as possible for the participant from the billing perspective.
Healthcare in general is a scary place for individuals -- specifically, the billing process can be one of the most difficult. Moving to utilize a technology-based intervention can be even more worrisome. So I still view my role today as helping the participant have a seamless experience with Omada.Our business succeeds when our participants also succeed in the program. After working with our participants for two years, I understand that their success is determined by their overall experience in the program. I take pleasure everyday in fighting for the participant and their success through Revenue Cycle Management.
In the beginning of the transition, I felt a bit disconnected from the overall company mission. But the biggest transition for me was switching from helping the participant with the "participant is always right" mindset, to having to push back and work with health plans to make sure our services are covered and paid for the participant. Once I realized that I was in the same fight, just from a different angle, my transition eased up.
What are your interests inside or outside of Omada?
In my spare time if I am not traveling, you can find me either sewing away, taking photos, or on a foodie excursion. As a former professional basketball player, basketball is still a passion of mine. However, due to a hip injury, I don't get to play as much as I'd like.
What would you tell your first-day self?
I would remind my first-day self something my college basketball coach would always say. "The key to success is to get comfortable being uncomfortable." That advice applies in almost any situation, but it certainly applies to my time at Omada. Coming from working at a machine like Genentech, it was definitely a transition moving into the tech space. Less structured time means Omadans are expected to figure out how to work through problems, but it also means a huge opportunity to make an impact.
The second thing I would tell my first-day self is, "Don't be afraid to ask questions, think outside of the box, and most importantly, don't be afraid to speak up." As much as every place I've ever worked, everyone at Omada has great ideas; but not everyone has the courage and confidence to speak on their ideas. One thing I always loved about my manager was that she was ALWAYS willing to hear my ideas. Sometimes my ideas landed, and sometimes they weren't as great as they seemed in my head.
This leads me to my last piece of advice, "Don't be afraid to make mistakes, and always look for ways to grow." Working at Omada, no matter what function or team you work on, you will always wear multiple hats. This creates tremendous opportunity to grow and develop a well rounded skill set. "You miss 100% of the shots you don't take" is one of my favorite quotes by Michael Jordan. First Day Jené…"always shoot your shot."
What's in your "secret stash"? (aka cheat food items)
My secret stash in the office is sunflower seeds, however, I also LOVE bacon. When I say love...I mean LOVE bacon. I've never been much a sweets person, so candy and chocolate have never been a problem for me. Don't be fooled, anything that is savory does not stand a chance in my path.
Interested in joining Omada? Check out our open opportunities
here
!